NFT Ticketing is quickly taking over the ticketing industry. But who's leading the charge? These 5 companies are taking the ticketing industry by storm with innovation.
Who are the top 5 NFT ticketing companies to look out for?
YellowHeart – NFTs for the music industry
GUTS – over 600k tickets sold
WICKET – ticketed Milano wine festival
NFT TiX – growing US-based NFT ticketing platform
Seatlab – upcoming NFT ticketing marketplace
1. YellowHeart
Yellowheart is an NFT marketplace focused on providing ticketing solutions for the music and entertainment industry. They have already worked with iconic brands like Kings of Leon, Maroon 5, and XXXtentacion.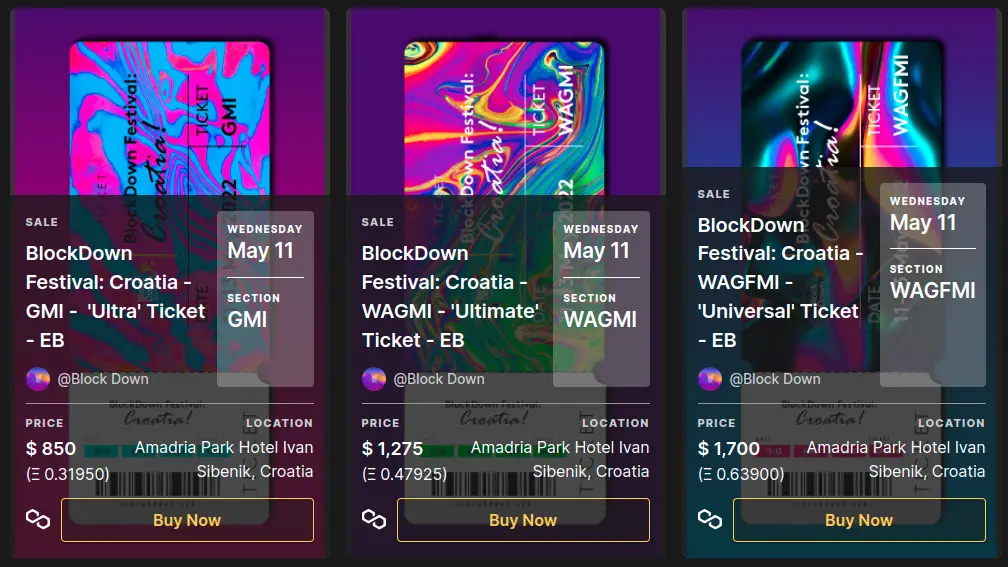 The Yellowheart platform also doubles as an NFT marketplace for collectible NFTs that coincide with upcoming events. They have a mobile app and a rapidly growing user base.
Their ticketing system is based on the Polygon blockchain and already has solutions in place to sell tickets on Facebook, Instagram, Amazon, Snapchat, StubHub, and SeatGeek.
2. GUTS
GUTS runs fully on the GET protocol and has sold over 600,000 NFT tickets. They are currently the biggest ticketer in the Netherlands and expanding.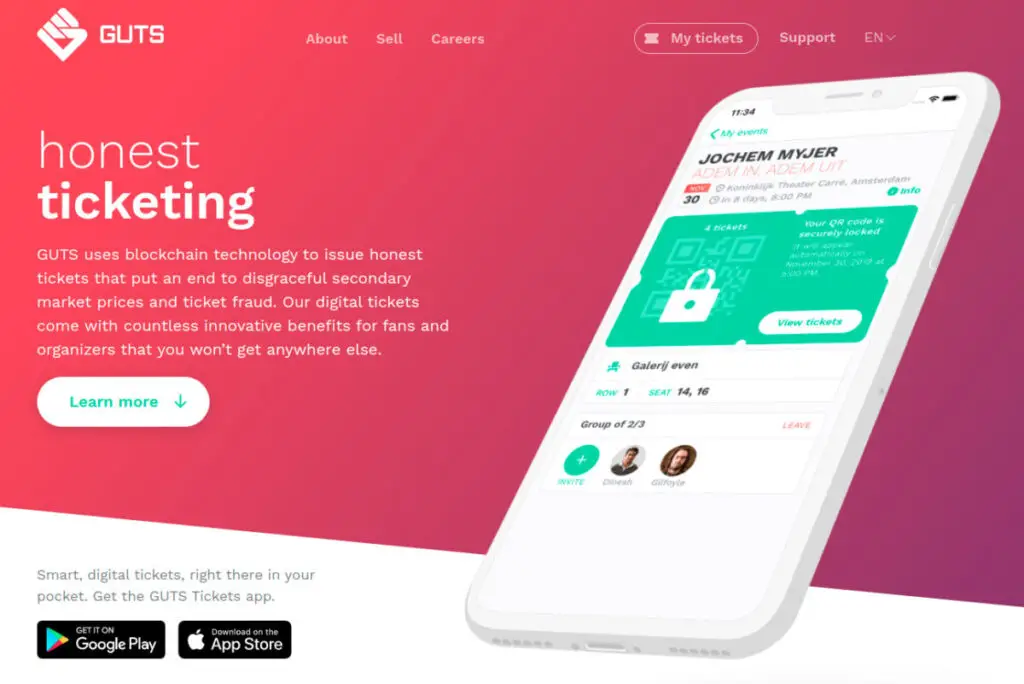 Guts believe ticketing can be easier, safer, and more fun. The company aims to disrupt the ticketing industry by proving how unfair and insane the mainstream business practices of the ticketing industry are.
GUTS offers digital smart tickets, fraud prevention, reselling, and ticketing for all markets including theatres, concerts, live streams, festivals, and more.
3. Wicket
WICKET is an Italian NFT ticketing platform that offers digital smart tickets, selling & resale, and analytics. They offer ticketing solutions for all markets like theatres, nightclubs, concerts, festivals, business events, and more.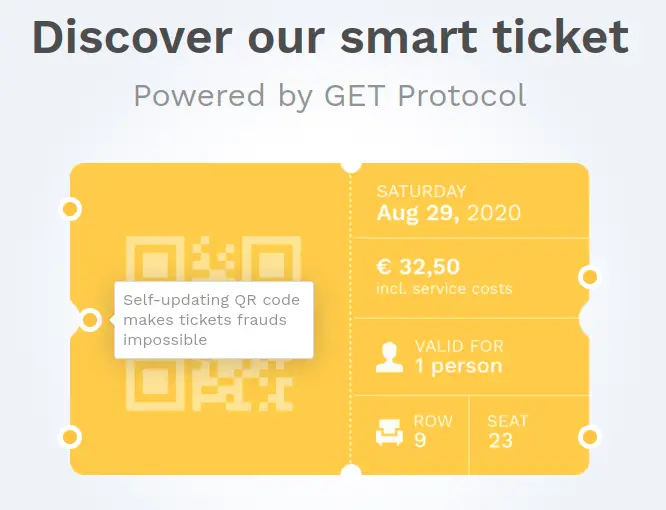 WICKET aims to eliminate secondary ticketing from the Italian market by selling verifiable NFT tickets. Companies in Italy resell tickets at prices up to 10 times higher than the original price from organizers.
Their solution leverages dynamic QR codes, online ticketing, NFT tickets, and is also built on the GET protocol.
4. NFT TiX
NFT TiX is a non-custodial, L1 Ethereum-based but a multichain-capable platform, which can seamlessly integrate with any other EVM-compatible chain like Polygon, Arbitrum, BSC, Avalanche, or Fantom.

There are no tokenomics involved, all transactions are done either in ETH or fiat (with CC).
The NFTTix platform consists of a front-end website with a user-friendly interface, backend infrastructure, and an audited and optimized smart contracts system.
5. Seatlab
Seatlab is an NFT marketplace that will soon be launching. Their solution aims to take on the secondary ticket marketplace to allow resale with royalties to allow increased revenue for organizers.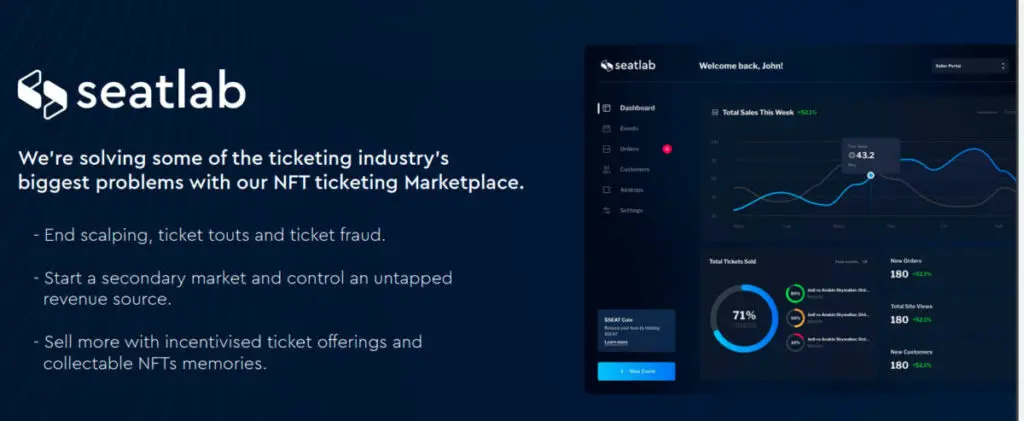 They will also offer NFT collectibles through airdrops and their marketplace.
The company previously launched Seatedly, an online ticketing solution that sold 1,000+ tickets today and had over 100 clients. Their new solution is based on the NEAR blockchain.
Problems that NFT ticketing solves
NFT ticketing is on track to fully disrupt the ticketing industry because it solves so many problems that organizers currently face.
Lost revenue from resale and scalping
The secondary ticket market is a hot mess. Resellers can dramatically increase prices, and scalpers buy up to 40% of tickets online to resell.
NFT ticketing allows limiting of resale value, as well as fees and more control over secondary ticket sales. This opens the doors to an additional $15 billion dollar market for ticket sellers.
Lack of data on sales and exchanges
Event organizers face a massive lack of data and attribution when selling tickets, especially when they are resold.
NFT ticketing allows for all ticket transactions to be tracked on blockchain technology, making it much easier to identify when and where tickets are sold and who bought them.
Ticket fraud
Customers lack trust in the ticketing industry. Ticket fraud is a common scam for large events, roughly 12% of ticket sales are fraudulent.
NFT ticketing solves ticket fraud by having all transactions available on blockchain ledgers, making it impossible to sell fake tickets.
Ticket production
Physical and digital ticketing requires production and digital ticket creation which can often be a technological challenge. NFT ticketing is much faster and more efficient than traditional or even digital ticketing solutions.
Although NFT ticketing already faces problems with gas fees. Ticketers are looking for a stable, fast, and cost-effective chain. New technology like the GET, polygon and NEAR blockchains are solving these problems.
NFT ticketing to take over
There is no doubt that NFT ticketing is the future for ticketing companies. Innovators like these 5 companies are racing to tackle the problems of the ticketing industry. The adoption of NFT ticketing is already growing fast.
Mark Cuban is even working on bringing NFT ticketing to the NBA. The NFT ticketing industry is expected to disrupt the online event ticketing industry, which is expected to reach 60 billion by 2026.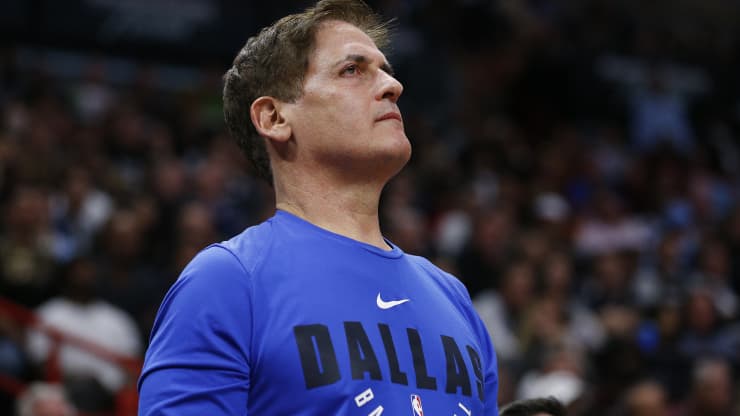 "We're trying to find a good option for turning our tickets into NFTs. We want to be able to find ways so that, not only can our consumers, our fans, buy tickets and resell them, but we continue to make royalty money on them."

Mark Cuban on NFT ticketing for NBA via The Delfi Podcast
If you think your NFT ticketing company should be on this list, reach out to us today.