The technology behind NFTs has been disrupting marketplaces and business models around the world, with over $33 billion dollars transacted for NFTs so far. If you're an investor looking for investment opportunities for actual NFT companies, you've come to the right place.
This guide covers all the ways you can invest in NFT companies that are paving the way for the Web 3.0 world – without actually buying any NFTs. There are tons of opportunities to be a part of this new wave of technology.
How To Invest in NFT companies
Here are the top 10 ways to invest in NFT companies:
1. Investing in NFT marketplaces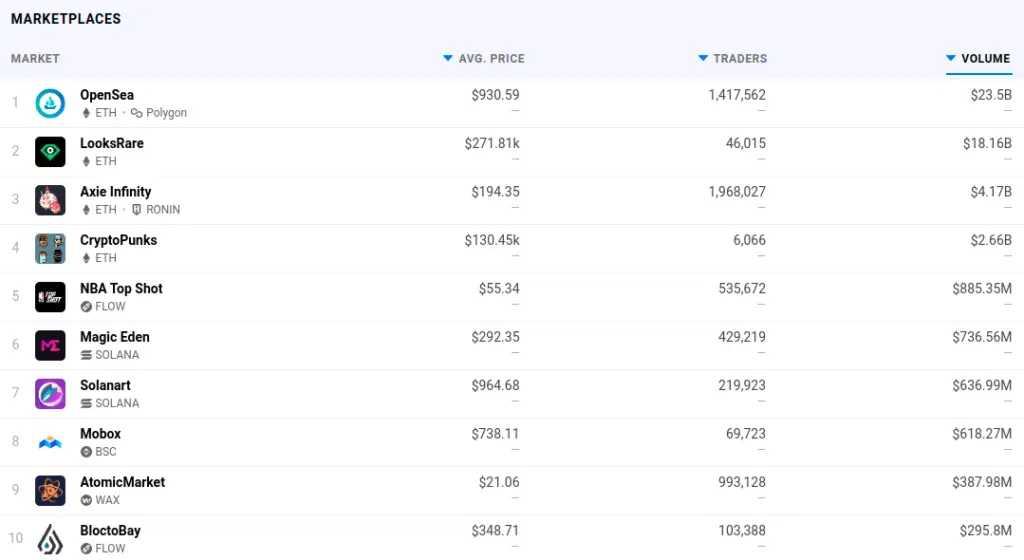 NFT marketplaces are the primary places where NFTs are bought and sold. There are opportunities to invest in both existing and upcoming NFT marketplaces. The best way to invest in established marketplaces other than just buying individual NFTs is to buy marketplace tokens and stocks which are covered below.
NFTs have only been mainstream for a few years. New marketplaces are popping up every month. While art NFTs are already widely covered, there are marketplaces being built for all kinds of industries like music, fashion, ticketing, sports, and more. Here are some great upcoming NFT marketplaces that you might be able to get in on as an early-stage investor.
Niftys
Nifty's goal is to foster a platform where creators, collectors, and curators open accounts and follow each other. The two advantages for users are that they can build a following and use that to exchange their assets and they can use the platform to connect with users with similar interests. Nifty's as of now has more than 2 million NFTs.
Nifty's was founded in 2021 in Florida and has acquired $10 million in seed funding so far.
Mintable
Mintable is an Ethereum NFT marketplace where users can mint and trade their NFTs. The Mark Cuban-backed startup is hoping to grow its platform to accommodate other blockchains.
Mintable was founded in 2018 in Singapore and is currently at $13 million in series A funding.
Spores
Spores is a Cardano-based startup that brands itself as a cross-chain, DeFi-fueled NFT ecosystem. They have a focus on NFT gaming and metaverse projects. Their utility token, $SPO, which right now has a market cap of around $3M, gives life to the ecosystem by making it simple to fractionalize, mint, manage and exchange NFTs.
Spores was founded in 2021 in Vietnam and currently has $2.3 million in early-stage venture capital.
Smaller NFT Marketplace Startups to look at
If you're an angel investor or venture capitalist who's interested in getting into earlier stage projects, check out DoingGud, Polkally, and VulcanForged. All of these projects are currently in the early stages but have been gaining media attention.
If you're looking for smaller projects that are just launching and possibly looking for investors, check out this list of NFT startups on Product Hunt.
2. Investing In NFT marketplace tokens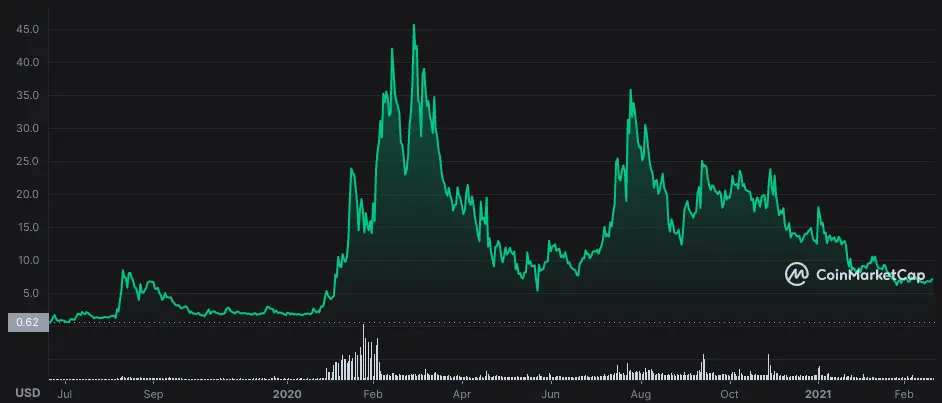 Some NFT marketplaces have created their own cryptocurrency tokens to tie in with their platforms. These tokens can be used for governance, transactions, and rewarding users.
Investing in NFT marketplace tokens is a great option for those who want to invest in NFT markets without buying, holding, and selling individual NFTs.
SuperRare
SuperRare ($RARE) is a premium Ethereum NFT collection where you can buy and sell art NFTs from the top artists in the industry. The platform focuses on individual NFTs instead of large collections.
SuperRare launched in 2018 and has since generated over $170 million in sales for artists around the world.
Rarible
Rarible ($RARI) is an Ethereum NFT marketplace that is also a distributed network that allows users to trade NFTs without an intermediary.
Rarible distributes tokens to users who buy and sell on the platform. And token holders can even participate in voting on the direction of Rarible's future. Rarible was founded in 2020 and has transacted more than $293 million in sales to date.
Binance
Binance ($BNB) is the world's largest cryptocurrency exchange. They recently launched an NFT marketplace and they have their own cryptocurrency.
Binance launched its NFT marketplace in 2021 and has quickly become one of the most popular NFT marketplaces due to already having such a large user base.
FTX
FTX ($FTT) is a popular cryptocurrency exchange that recently launched its own NFT marketplace. The company added functionality for NFTs in 2021.
FTX is already valued at over $32 billion and is still rapidly growing.
3. Investing in NFT marketplace stocks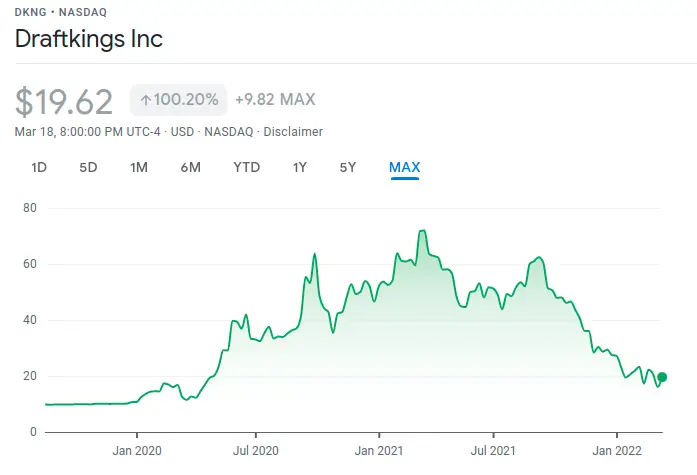 Here are some NFT marketplaces that are publicly traded. Some of them are already launched, and others are coming soon.
Investing in NFT marketplaces that are publicly traded is a great option for stock market investors who want to expand their portfolio to include some crypto and NFT options.
DraftKings
DraftKings is the top US-based fantasy sports and sports betting company. They recently added an NFT marketplace that is the exclusive home of Autograph.io Sports NFTs. Autograph IO was founded by Tom Brady and the platform has gained huge interest since launching. Some Autograph.io NFTs have sold for millions of dollars.
DraftKings is a publicly-traded company. If you're interested in investing in DraftKings stock, take a look at DKNG.
EBay
Ebay recently added the ability to buy and sell NFTs on their marketplace. The eBay NFT marketplace currently has NFT categories for art, entertainment, music, and trading cards. They plan on expanding to other categories in the near future. The CEO of eBay, Jamie Iannone, even recently mentioned he is open to the idea of adding cryptocurrency compatibility to eBay in the near future.
eBay is a publicly-traded company. If you're interested in investing in eBay stock, take a look at EBAY.
Coinbase
Coinbase has announced that they will be adding an NFT marketplace to their platform. Their goal is to include more social features to help creators and artists better connect. Brian Armstrong, the CEO of Coinbase thinks that their NFT market could even surpass their cryptocurrency market.
Coinbase is a publicly-traded company, so if you're interested in investing in Coinbase stock before their NFT marketplace, just take a look at COIN.
Gamestop
Gamestop is working on an NFT marketplace for the video game industry. They are partnered with Immutable X, which is an NFT blockchain company focused on the video game industry. Gamestop was given $100 million in IMX tokens to help the project. They used the endowment to set up a fund for game developers to build web3 games and NFT assets on their platform. Immutable X has also recently raised $200 million in funding. Microsoft has also been rumored to be getting in on the deal.
Gamestop is a publicly-traded company. If you're interested in investing in Gamestop stocks, take a look at GME.
4. Investing in NFT stocks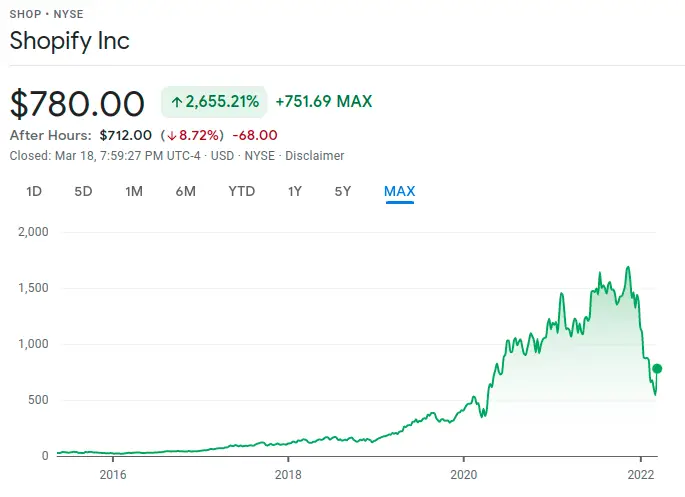 In addition to NFT marketplaces that are publicly traded companies, there are also a handful of public companies that are getting into NFTs. Here are some great options.
Shopify
Shopify is the world's largest e-commerce website platform. They have recently launched NFT compatibility which is in beta. Shopify will allow users to mint and sell NFTs on their own stores and even use Shopify payments.
Shopify is a publicly-traded platform. IF you're interested in investing in Shopify stock, Check out SHOP.
Facebook/Instagram/ Meta
Meta CEO Mark Zuckerberg recently announced that Instagram users will soon be able to mint NFTs on the platform. This is Meta's first move into NFTs and cryptocurrency and the company is likely to make more big moves like this in the future.
Meta has also discussed the possibility of launching its own NFT marketplace platform in the near future.
Meta is a publicly-traded company. If you're interested in investing in Meta stocks, take a look at FB.
Twitter
Twitter recently added the ability to add NFT profile pictures and included several wallets to support the feature. While they are still working out the kinks, the company is definitely showing signs of interest in accomodating the quickly growing world of NFTs and cryptocurrency into the Twitter platform. Jack Dorsey, the co-founder of Twitter even recently sold his first tweet as an NFT for just under $3 million.
Twitter is a publicly-traded company. If you're interested in investing in Twitter stocks, take a look at TWTR.
Funko
Funko is an American manufacturer of cute pop culture collectibles. The company also produces pop culture apparel, and recently, NFTs. Funko NFTs allow the company to expand into the web 3.0 world and help their fanbase of avid collectors own NFTs related to their favorite pop culture brands.
Funko isn't a well-known company unless you're one of those people with a shelf full of Funko bobbleheads, but they're actually pumping out upwards of $600 million in revenue a year.
Funko is a publicly-traded company. If you're interested in investing in Funko stocks, check out FNKO.
Cloudflare
Cloudflare is a favored tool by many in the website world. It's a technology company that speeds up websites and apps, increases security, and more recently, added support for video NFTs. Their support for video NFTs encourages creators in the NFT space to host them on Cloudflare's platform, which helps Cloudflare expand its customer base.
Cloudflare is also doing upwards of $600 million a year in revenue and is a publicly-traded company. If you're interested in investing in Cloudflare stocks, check out NET.
5. Investing In Blockchains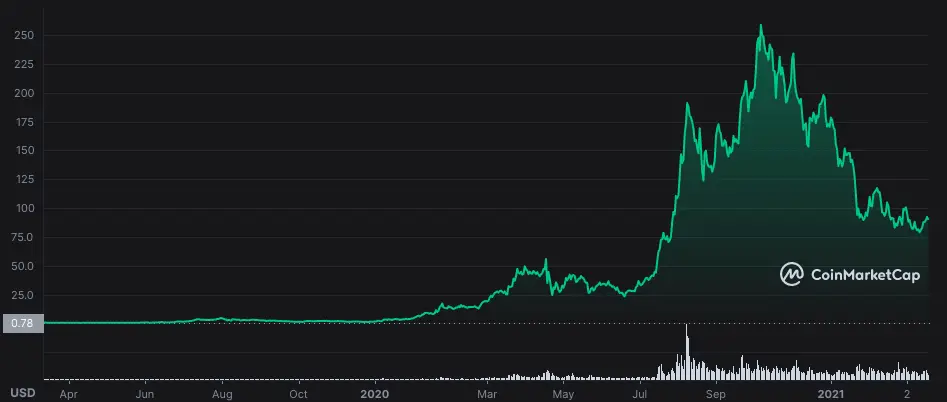 All NFTs are created using blockchains. The native currencies that NFTs are built on are used for minting, buying, and selling non-fungible tokens.
The emergence of NFTs has helped a lot of cryptocurrencies grow in popularity and value. The most notable is Ethereum ($ETH), which has a built-in mechanism that decreases the supply of Ethereum every time a transaction is made. The value of Ethereum increased by 960% when NFTs gained popularity in 2021.
After Ethereum, there are several cryptocurrencies that are the main currencies on NFT marketplaces.
Here are the top NFT blockchains other than Ethereum that you can invest in:
6. Investing In Blockchain scaling Solutions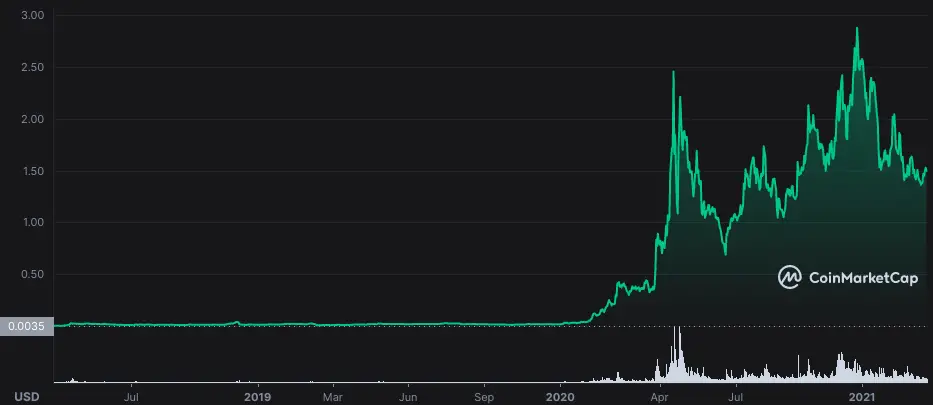 Ethereum has problems with transaction (gas) fees and energy consumption due to all the transactions taking place on the blockchain. They are working on Ethereum 2.0 which should help alleviate a lot of those problems, but won't totally solve them. This has opened the door for layer 2 solutions that solve Ethereum's scalability problems. Vitalik Buterin, the founder of Ethereum even endorses the use of layer 2 scaling solutions.
Many NFT scaling solutions are built on top of Ethereum and solve the big problems Ethereum has, especially for NFT markets. These solutions offer much lower, or even no cost minting, as well as less energy consumption, and many projects and marketplaces are being built with the technology that they offer.
Here are a few of the top blockchain scaling solutions you can invest in:
7. Investing in NFT Projects that have a cryptocurrency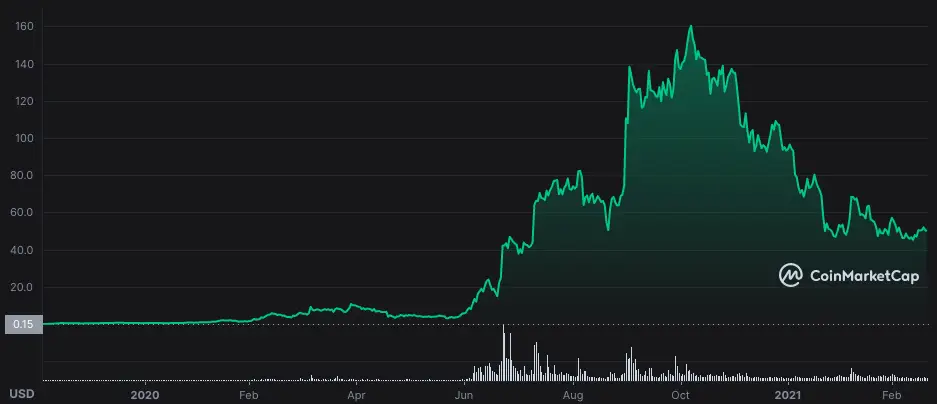 Some NFT tokens have created their own cryptocurrencies to go along with their projects. NFTs that have tokens aren't intended to be "money" but rather a utility to use alongside the NTS. For example, they might be used within an NFT game for breeding, upgrading, or other in-game uses.
Investing in NFT tokens that have an associated cryptocurrency allows holders to potentially sell off some tokens instead of exiting their entire position, which is often holding just one high-value NFT within that project.
Some of the most well-known cryptocurrencies associated with NFT projects are CyberKongz' $BANANA, Axie Infinities' $AXZ, and Anonymice's $CHEETH tokens.
Bored Ape Yach Club just released ApeCoin ($APE), and Cool Cats is expected to launch a token soon too. These new NFTs with tokens allow investors to get in on the action of high-value NFTs without actually having to hold one.
Keep an eye on popular NFT projects. A lot of community members for these projects are frequently asking "wen token?". and these projects are often open to the ask.
8. Investing in new NFT projects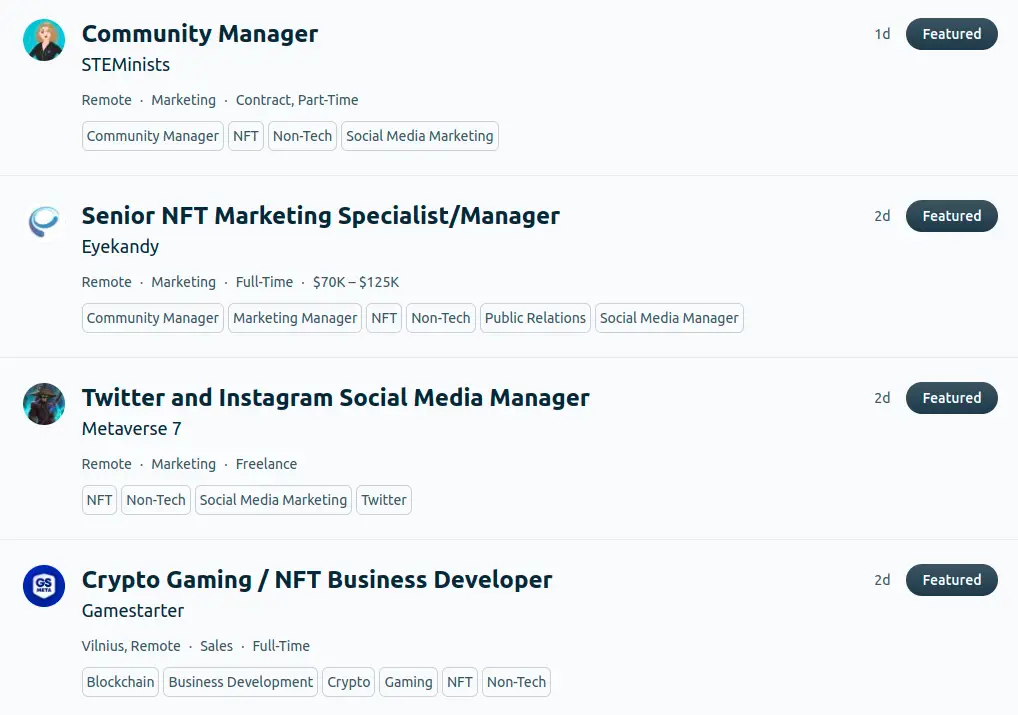 Investing in the creation of an NFT project is a great option for those looking to get in on an opportunity that no one else knows about. NFT projects need a lot of work to get off the ground. They need artists, developers, marketers, and more.
As an investor, you can help make these essential things happen. The founding team of an NFT project gets a lot of perks. For example, if the project is a success you could be looking at royalties, revenue, and more.
The only consideration is finding the right project to get involved in. It's difficult to find new projects that haven't hit the mainstream yet. One of the best ways to find upcoming NFT projects that no one knows about is to search job boards for postings related to NFT projects and reach out to them to learn more about the project and see if you can help. Another option is to network with the NFT community about who is working on a new project.
9. Investing in NFT metaverse land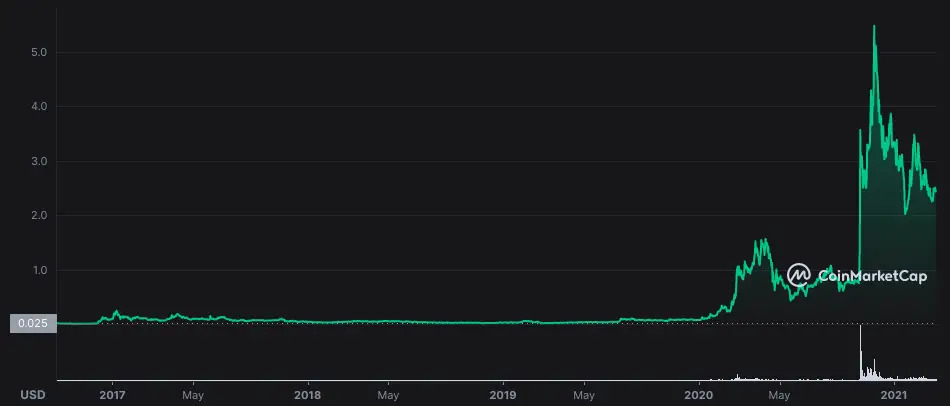 Metaverse land is space in a virtual world or game. The land is typically minted, bought, and sold as an NFT. A lot of NFT projects are adding a metaverse or building one from the start.
Metaverse land is similar to a regular NFT, there are even cryptocurrencies to go along with them. Which means you can buy land, or invest in their token, or both. The added benefit of metaverse land is the real estate component.
As a metaverse becomes more popular, the land increases in value. And if you buy metaverse land when these projects are just getting started, you could be in a position to make a good return on your investment in the near future.
Here are the top NFT metaverse lands you can invest in:
10. Investing in NFT fractional funds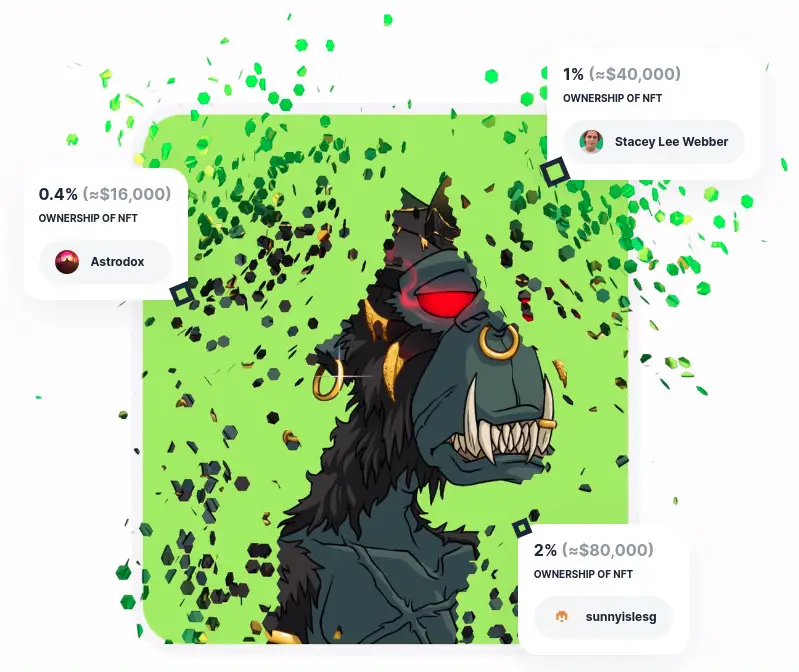 As NFTs gain value, Some DAOs (Decentralized Autonomous Organizations) are collecting them and fractionalizing them. As an investor, you can buy a fractionalized NFT, or invest in the token associated with the DAO.
This allows you to own a piece of a "blue chip" NFT, instead of going and investing a large sum into buying one yourself. These companies typically also come with perks such as distributing tokens to holders, closed community access, and voting rights over assets.
Here are the top NFT fractional funds and marketplaces you can invest in:
Get in on the NFT action
This post is simply here to help you understand the many ways investors can build an NFT investment portfolio without actually buying and selling NFTs. If you're considering making a large investment into NFTs or cryptocurrency consider talking to a financial advisor that is experienced with crypto investing.
That being said, there are so many opportunities to get into the world of NFTs. Do your research and find an opportunity that is right for you.