Interest in Tom Brady's Autograph NFT platform has been skyrocketing since it launched. But buying these NFTs is actually pretty tricky. This guide will clear things up.
So how exactly do you buy an official Autograph NFT? They are primarily sold on the DraftKings Marketplace, this is the official home of autograph NFTs. Some Autograph NFTs can also be found on OpenSea. You can sign up for the DraftKings Marketplace newsletter to be notified of NFT drops as soon as they happen, as well as browse the marketplace of NFTs that are being resold.
These drops sell out almost instantly and the items on the marketplace are rare and pricey, some selling for over $80k. A few Autograph NFTs have even sold for millions. Here's everything you need to know about investing in, buying, and selling Autograph NFTs.
What is Tom Brady's Autograph NFT platform?
Autograph.io is an NFT platform founded by Tom Brady and Richard and Dillon Rosenblatt that launched on December 9th, 2021. The platform enables the creation, buying, and selling of iconic branded NFTs in the sports and entertainment industry. Icons partner with Autograph to digitally monetize their brands by minting and selling limited edition NFTs.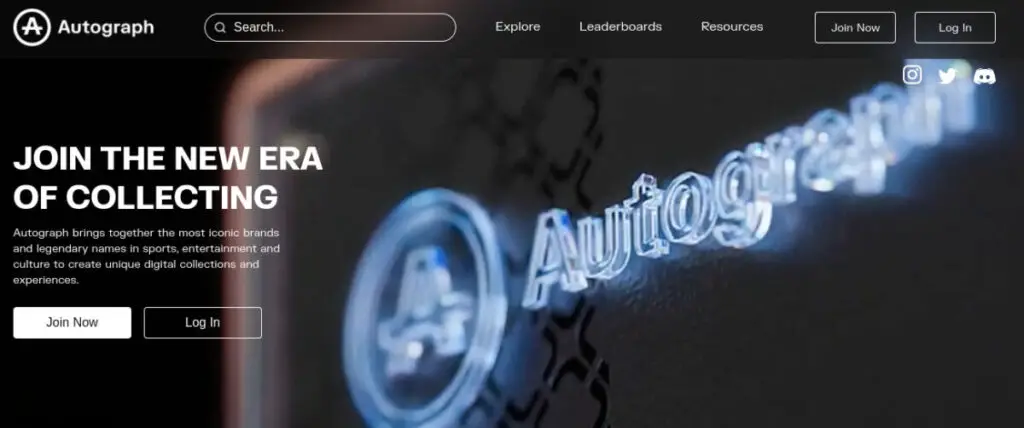 The platform launched with huge initial interest and success, quickly raising over $170 million in capital from top crypto investors. The platform has done exceptionally well since launch with collections selling out in less than 10 minutes and grossing more than 1.3 million in sales.
Icons and brands have quickly joined the platform to launch their own collections and movies like Moonfall have even minted NFTs on Autograph. Some of the recent collections on Autograph feature icons like:
What is Tom Brady's NFT collection?
NFL Superstar Tom Brady launched Autograph.io with his own collection as the first on December 9th, 2021. His collection highlights defined key events before Brady was drafted into the NFL in 2000. The collection consisted of 16,600 NFTs stored in mystery boxes, each priced at $80 during launch. Buyers didn't have any idea which NFT they were getting at launch and had to wait for the big reveal on December 14th.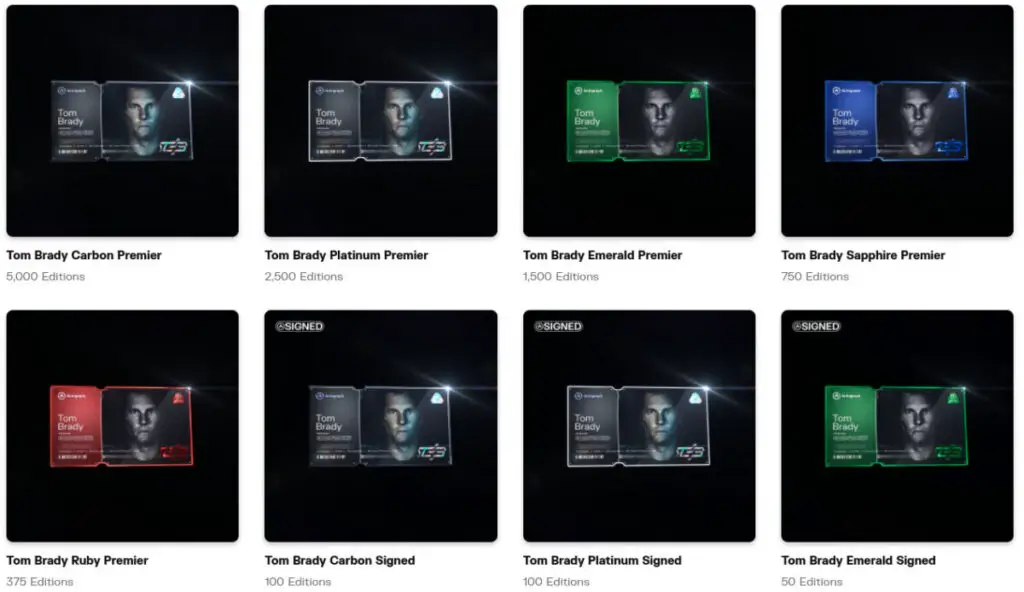 The collection featured 25 sets of tiered collectibles based on rarity. Some of the memorabilia included in the collection contained NFTs for his:
College resume
Combine cleats
Combine jersey
Combine stopwatch
Rookie draft card
The "combine" items are based on a week-long scouting event back in 2000 when Tom Brady completed physical and mental tests to impress NFL coaches and later signed with the Patriots.
The rarity Tiers of Tom Brady's Autograph NFT collection are as follows: (rarest to least rare)
Ruby
Sapphire
Emerald
Platinum
Carbon
Each memorabilia set contains variants of different rarities, with Ruby NFTs being the rarest and Carbon NFTs being the most common.
Brady also included rare NFTs called "immortal statues", each of which had rarity tiers. The Ruby and Sapphire tiers were personally autographed by Tom Brady himself. The immortal statues were only given out to users who met certain requirements like holding a certain NFT set before the activation deadline of December 21, 2021. Now the only way to get a Tom Brady immortal statue NFT is to buy one from a selling holder.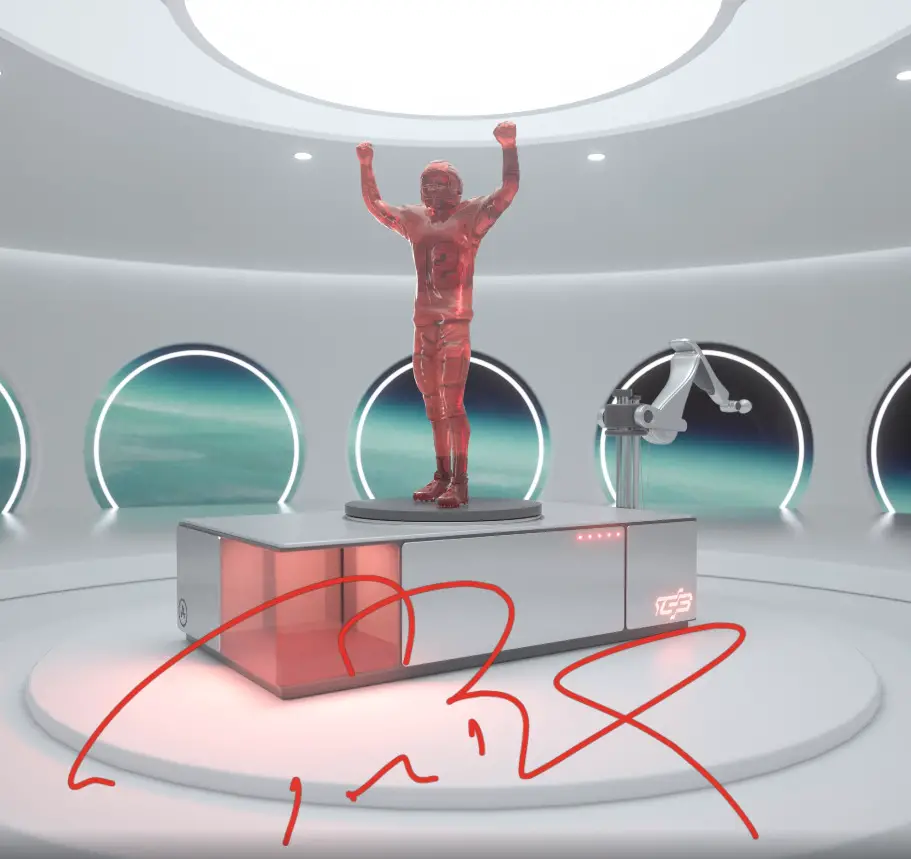 In order to meet the requirements before the activation deadline users had to link their DraftKings account to their Autograph account and acquire all five items (listed above) of the same rarity tier. They would then become eligible to get one Immortal statue of the same rarity tier. So if you collected a Ruby resume, cleats, jersey, stopwatch, and draft card, you would then get a signed Ruby Immortal Statue.
Recently launched collections on Autograph have followed a similar item and tier structure, but icons are not required to follow this exact format.
How much are Autograph NFTs worth?
Autograph NFTs initially sell for $12 to $1,500 each when they are first dropped. Afterward, they can be resold on the DraftKings marketplace. and range from $12 to $88,000 depending on their rarity. A signed Tom Brady Autograph NFT recently sold for $4 million. The platform has already sold more than 100,000 NFTs since launching.
Autograph NFTs on OpenSea are being sold for anywhere from 2 to 750 ETH which is around $5-$198k at the time of writing.
In summary, Autograph NFTs are quite valuable, and if you're lucky enough to get your hands on one when they first drop you could stand to make a huge return on your investment if you're willing to part with your collectible NFT.
To get notified of Autograph NFTs as soon as they drop you can sign up for the DraftKings Marketplace Newsletter or join their Discord.
How to buy and sell Autograph NFTs
In order to buy or sell Autograph NFTs you should register an account on autograph.io and create an account on the DraftKings Marketplace. It's important to note that the marketplace is currently only accessible to people living in the US and Canada.
There are age restrictions for the DraftKings Marketplace. You must be 18 or older to buy and sell NFTs on DraftKings Marketplace. 19+ in Alabama and Nebraska, and 21+ in Iowa, Louisiana, and Massachusetts.
What payment methods can you use for Autograph NFTs?
Autograph NFTs can be purchased on the DraftKings Marketplace and the accepted payment methods are:
Online banking
Credit and debit cards
Paypal
Electronic gift cards
DraftKings gift cards
Once you create an account and add funds to it via the accepted payment methods you're ready to go. All orders are currently processed in US dollars.
There are two ways to buy Autograph NFTs on the DraftKings Marketplace:
Primary Drops
When an NFT is first introduced to the market you'll see a drop date and time for when the collection will launch. Once the drop launches you'll be able to go to the DraftKings Marketplace and join a virtual queue with other users to get your chance to grab an NFT. You'll be able to see how many people are in line and when it's your turn to shop.
Keep in mind that new collections can often sell out in minutes so if you get in line be sure to stay in line or you may lose your spot and miss out on the drop!
Secondary Marketplace
You can head over to the DraftKings Marketplace at any time and navigate to the browse section, this will show all available NFTs that users are currently selling. You can pick out exactly which NFT you would like and buy it directly from the seller.
Keep in mind that sellers will typically list items at a higher price than when they received them from the initial drop, so you'll likely end up paying more for secondary sales than initial drop sales.
Can I buy Autograph NFT with cryptocurrency?
Autograph.io does not currently support cryptocurrency payments. While Autograph currently only accepts purchases via the DraftKings Marketplace in US dollars they are working on being able to accept more currencies in the near future. They recently added the ability to link your crypto wallet to Autograph.io, so the likelihood that you will soon be able to purchase autograph NFTs with cryptocurrency is high.
Some Autograph NFTs are available for sale on OpenSea where they can be purchased with Ethereum.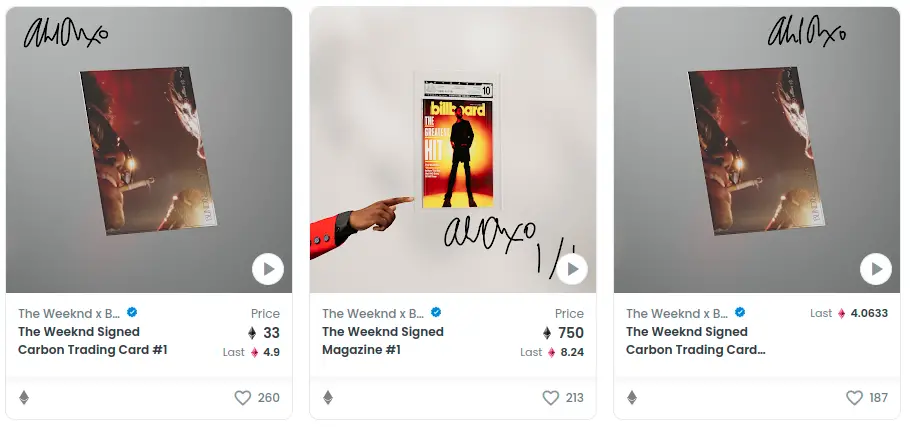 If you choose to buy an Autograph NFT from Opensea be sure to buy from a verified seller. Verified sellers will have a blue checkmark next to their name.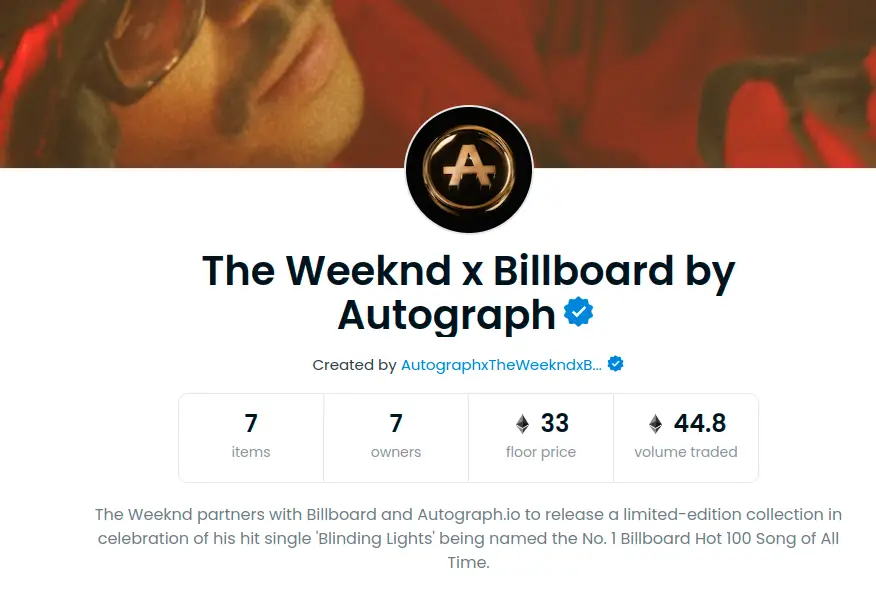 What Blockchain technology does Autograph NFT use?
Autograph NFTs are minted on the Polygon Blockchain, which is an Ethereum-compatible layer 2 solution.
Formerly known as MATIC, Polygon is a framework for building interconnected blockchain networks and was built to address some of Ethereum's major limitations such as throughput, user experience, and lack of community governance.
Autograph likely chose to mint its NFTs on Polygon due to the improved reliability, throughput, and user experience Polygon offers. Polygon also has lower minting and gas fees.
Do you need a DraftKings account to buy Autograph NFT?
Yes, you need a DraftKings account funded with fiat US dollars in order to buy from the marketplace. It's also recommended to connect your DraftKings account to Autograph.io to be eligible for possible bonus perks. Tom Brady's collection gave immortal statue NFTs to users who linked their account to Autograph and acquired all of the items in one rarity tier.
This guide on Autograph's blog includes instructions for linking your DraftKings account to Autograph.io.
How do you get an Autographed NFT edition?
Not all autographed NFTs will contain a hand-signed autograph from the icon. There are two ways to get an Autographed NFT:
Autographed editions via Primary Drops
When a collection is first introduced to the marketplace some of them may be autographed. Autographed NFTs usually have the autograph clearly visible on the artwork of the NFT. You can check the description of the NFT or collection for details on the availability of an autographed edition.
Keep in mind that autographed NFTs are rarer and harder to get, and may cost higher prices. Some autographed editions may not even be directly available. For example, Tom Brady's immortal statues were only given out to select users who acquired all five NFTs in the Ruby and Sapphire tiers.
Autographed editions via Secondary Drops
Autographed editions can be found in the DraftKings Marketplace. You can select the NFT you would like and complete the purchase to gain ownership. Keep in mind that autographed editions won't always be available for sale and will likely be listed at higher prices compared to non-autographed editions.
You can check the auctions section and the browse section within the DraftKings Marketplace to look for signed editions.
How can I sell an Autograph NFT?
In order to sell an Autograph NFT, you will need an Autograph account and a DraftKings marketplace account. You will also need to have purchased an Autograph NFT on the same account in order to sell it.
To list your NFT simply visit your DraftKings Marketplace Portfolio or the Gallery on Autograph.io tap on the NFT you want to sell and then tap "Sell". You can set any price you would like and then list it. You'll receive a confirmation email if your NFT sells.
What happens when I sell an Autograph NFT?
If you listed an Autograph NFT for sale and someone buys it, you'll receive an email notification and your funds will be deposited into your DraftKings wallet. You can then withdraw your funds from your DraftKings account.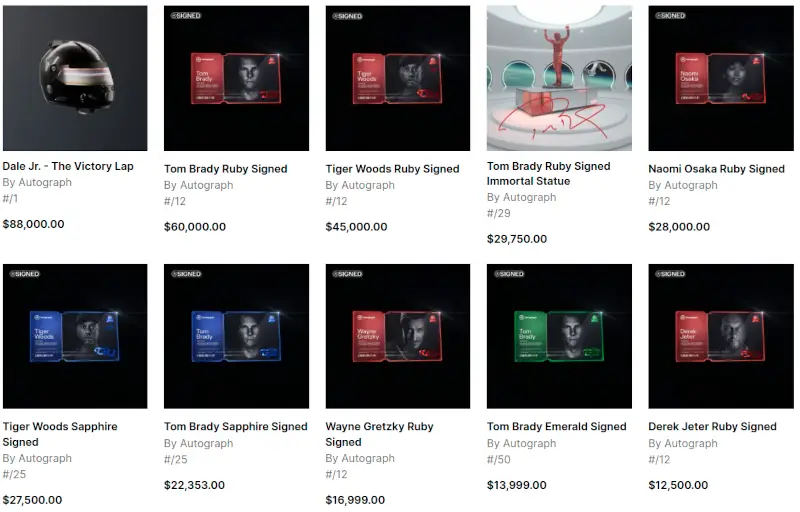 Here's a helpful article on how to withdraw your funds from DraftKings.
Is Autograph NFT a good investment?
While Autograph NFT is still a new and exciting prospect, the likelihood that it is a good investment is high. Over 100k NFTs have been sold since launching ranging in prices from $12 to $88k. An autographed Tom Brady NFT recently sold for $4 million.
They are also one of the first Sports & entertainment NFT platforms to hit the market. The platform is growing rapidly and early NFT investors could stand to make a profitable return. On the flip side, some people buy these NFTs just to be part of the community because it gives them access to other like-minded enthusiasts.
Here's what Autograph CEO Dillon Rosenblatt said about the craze behind NFT investing in a recent interview with CNBC:
"There's been a love for collecting for all of human history. NFTs could be "the next frontier of it. That's because NFTs aren't replicable: Their ownership and validity can be tracked and verified from the moment their data gets uploaded to a blockchain ledger. Rarity is a valuable trait in any collector's world, and each NFT is guaranteed to be unique.

Some people buy digital assets specifically so they can become part of the NFT community. When somebody makes one of those iconic purchases, the whole space knows about it. It's the same as somebody who buys a really unique car in the car world. In a way, it can be a cool 'flex item' for the people that value that.

Autograph encourages that sense of community by giving users access to a chat group on Discord, where buyers can talk directly with influencers who offer branded NFTs on the company's platform. Brady, for example, made an appearance in the chat group just last week.

Other top NFT marketplaces — like OpenSea, Larva Labs or NBA Top Shot — offer their users similar access to private Discord chats. Put simply, Rosenblatt says, buying an NFT at any price can make you feel included in the latest craze. It's an entryway into this world.


Autograph CEO Dillon Rosenblatt via CNBC
Considerations before investing
If you're considering investing in Autograph NFT you should be aware of the considerations mentioned in this article like currently only being able to use US dollars, waiting for drops in virtual lines, and verifying NFT sellers that aren't on the DraftKings Marketplace.
There are also other considerations like the fact that NFT values are highly speculative and volatile. However, unlike most NFTs, Autograph has the stability of being backed by US dollars. Most NFTs are bought with cryptocurrency, which is more volatile than fiat currency. Check out this guide for the pros and cons of investing in NFTs for more details.
NFT Investor Journal does not offer financial advice and articles on this website are purely informational. Consider talking to a financial advisor that is experienced in NFTs and cryptocurrency before making any large investments.